Mortar is often considered the material that either keeps the bricks apart or bonds them together.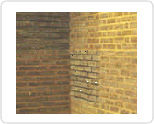 As the photograph shows mortar will alter the overall appearance of a wall.
The photograph shows walls built using the same brick throughout. By altering the colour, shade and pointing of the mortar a startling effect on the overall appearance of the brickwork is achieved.
The cost of using a coloured mortar is minimal when compared to the overall cost of an average house, and can sometimes save money. Selecting a more economical brick and enhancing the appearance with the selection of a coloured mortar can reduce the cost and improve the look of a building.
Successful masonry is dependent on the selection of the correct materials for each application. Before selecting a brick and mortar, consideration must be given to the following criteria.
What are the strength requirements of the structure?
What degree of exposure is there at the site?
Which bricks will meet the requirements of A and B?
Which designation of mortar will be compatible with A Band C?
Which joint profile is most suitable?
Are there any design details that may effect the durability of the unit?
Build and view a test panel to confirm your selection
Allow sufficient time before the start of the project, for the panel to dry.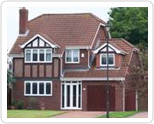 Lime based mortars are strong yet sufficiently flexible to absorb structural movements in buildings. Since the lime in the mortar remains chemically active any resulting cracks may be "healed" when the lime reacts with rainwater, so improving weather resistance and reducing maintenance cost.
Lime based mortars have proved their excellent durability over the centuries. Lime in mortar allows good workable mixes with out recourse to sands with high fines content or the need for high air entrainment. In this way, mortars with excellent durability and colour stability can be produced.
Our Lime Sand Mortars can be supplied to site in Bulk Tipped Loads, 8 ton Skips, 1t Big Bags, & 25kg pre-packed bags. Our Crane off-loading vehicles can place the mortar near to the mixers, over fences, walls and trenches, without the need of plant & machinery on site.